This post brought to you by Organic Choice. All opinions are 100% mine.
Getting the Garden Ready
The promise of Spring is finally in the air – at least it is here in Georgia. After our coldest March on record, temperatures appear to be inching upwards. Last night, I hope, was our final freeze for the season.
Around our house, warmer temps not only mean packing up the winter clothes, they also mean it is time to start planting our garden.
Having a backyard garden has so many benefits. We have a backyard garden because it is:
·         An economical way to add a variety of delicious fruits and vegetables to our diet
·         Environmentally friendly
·         A wonderful way to teach the kids about:
o   The life cycle of a plant
o   How our food gets to the table
o   Being friendly to the environment
o   The payoff when you work hard to accomplish something
·         Fun and relaxing
Despite the unusually cold winter, we did have a few nice weekends In February. On those weekends, my husband started building our new raised garden bed and preparing our large planters for the items we plant in our container garden.
We've also been talking to the kids about what to plant this year. So far, we have agreed on cucumbers, tomatoes, sugar snap peas, bell peppers, spinach, cabbage, carrots.
On top of those things, we will plant our herb garden. My oldest son loves the herbs so much that he has been known to eat basil and lemon thyme right off of the plant. Of course, the "scavenging" isn't just limited to the herb garden. One afternoon last year, while my husband's back was turned, the boys conspired to eat every single tomato off of one of the cherry tomato plants.
While I definitely prefer to wash the fruits and veggies before they boys eat them, I'm thrilled by their excitement. It also brings back memories of my childhood – my sister and I used to sneak out to my mom's garden and eat all of the peas. My mom would come out and find empty pea shells all over the garden bed, and us happily swinging on the swing set with full bellies.
Gardening with Miracle-Gro Organic Choice
The boys' enthusiasm for eating the garden vegetables right off the stem just serves to remind me of the importance of selecting the right products to help the garden grow. For that reason, we have decided to use organic products to grow our garden this year.
I was pleased to see that a brand we already love, Miracle-Gro , offers the Organic Choice line. The Organic Choice line offers fully organic soil, potting mix and plant food. Products that we can use in both our raised garden bed and our container garden.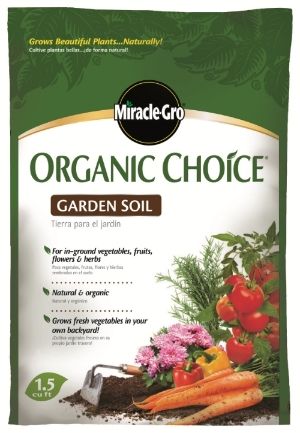 My mouth is already watering as I think about the first cucumber and tomato salad we will make with this year's bounty. It is a simple, but amazing salad that our entire family likes. You just toss cucumbers and tomatoes with a dressing made of apple cider vinegar, olive oil and a hint of something sweet (honey, sugar, agave – the choice is yours).
Knowing that it will all start with Miracle-Gro Organic garden soil means that my family really will get the best from our garden this year, and do it in an environmentally friendly way.
Do you grown your own fruits and vegetables?